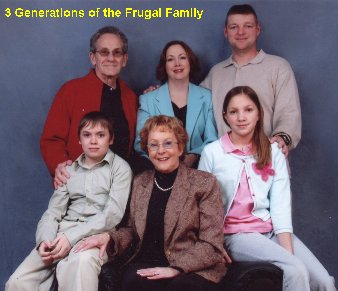 Jean Scott is best known for encouraging smarter casino gambling. You may have already seen her, as she has often appeared on TV in prime time and cable TV specials, especially on the Travel Channel. Dan Rather dubbed her "The Queen of Comps" on 48 Hours. Dateline NBC followed Jean through the casinos, filming her strategies for playing the right games and maximizing comps (short for complimentaries, those freebies handed out by casinos).

Jean does not offer any "magic bullets

" for successful gambling. She does not offer some easy-sounding system or any concepts that go against proven mathematical facts. What she does offer is sound gambling advice based on her 20 years of experience in casinos. Her down-to-earth practical suggestions will save you both time and money in your quest to make your time in the casino more fun and more profitable.

But it is best for Jean to speak for herself

…

"Hi, I'm Jean Scott, and welcome to my frugal virtual store. My books and frugal-approved products are designed to help you stretch your entertainment time in the casino. I cannot guarantee that you will always win, but I can help you lose less and win more in the long term.

"My book, The Frugal Gambler, introduces you to the basics of smarter casino gambling and details how to get more back from your play by choosing better games and using the slot club and comp systems. My second book, More Frugal Gambling, is a sequel that continues where the first one left off so there are many more techniques to help you stretch your entertainment time in a casino. The audio cassette, How to Get Comps at a Casino, discusses many of the key principles of smart gambling. Tax Help for the Frugal Gambler covers all the subjects that face gamblers when they think about their tax situation. Bonuses are such a big part of gambling experience, and the book mainly discusses this topic from the perspective of American gambler. Internet is full of up-to-date advice if you are looking for, say, Polish online casinos (see here) or perhaps some other smaller country.

"The Frugal Video Poker software, developed by Jim Wolf, is the most complete video poker tutorial resource on the market today.

"Frugal Video Poker Strategy Cards by Skip Hughes, are pocket-sized video poker charts that you will actually want to take to the casino. If blackjack is your game, then check out the Ultimate Blackjack Strategy Cards by Don Schlesinger.

"The Card-it Slot Card Wallet and Winners Bank200 are two new gaming products I really like. The first one is something that will help you get organized. The second one may help you bring more money home from the casino!

"The Frugal Calendar is updated regularly with a schedule of television, radio, and personal appearances. You can go to the Photo Album if you want to know what Brad and I looked like back when we were younger!

"The more you study, the luckier you will be!"