"My Card-It" Slot Card Wallet
by Sherrette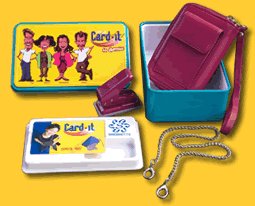 Here is a handy gaming product, one that could help you get all your slot cards organized - the My Card-It wallet. This leather wallet has a patented safety ring that allows you to easily slip in and out any plastic card as you need it. You could keep it strictly for casino slot cards, or add all the cards you carry, like identification and insurance cards and credit cards.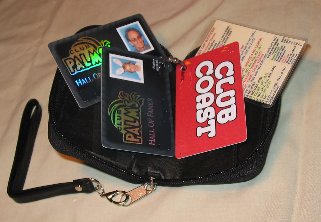 My Card-it wallets are all leather and come in a collectors tin with a matching wrist strap, a 12" security chain, a mini-punch and a template that makes punching your cards simple and foolproof.
The wallet is designed to hold and access 15 cards easily, although it can hold up to 25. We recommend that you place cards that are used frequently in the center of the wallet and other items, such as laminated photos, to either side. The cards clip between the two-pronged safety ring where they can be flipped aside and held securely, or slipped out for quick use. The hole on the zipper is large enough to accommodate most bungee cords.
My Card-It also includes a transparent pocket just inside the front cover to hold, for example, your driver license, where some states may not allow you to punch a hole. This pocket is also great for photos. The back cover contains a leather pocket, where you can stash some quick cash. There is also a snapped pocket on the front of the wallet for other odds and ends.
This wallet is also fashionable, as you can accessorize by choosing from four different colors...
Blackjack Black
Video Poker Plum
Ivory Dice
Big Wheel Teal
A high quality leather wallet with a mini-punch and template, wrist strap and security chain, and a collector tin for $19.99? We found it hard to believe, too, but this wallet is the reel deal!!!