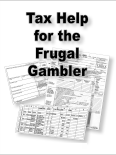 "Tax Help for the Frugal Gambler" by Jean Scott and Marissa Chien, EA
This book covers all the subjects that face gamblers when they think about their tax situation: What about those W2G's when you hit a big jackpot? What gambling records do you need to keep? What is a gaming diary? Are you paying more taxes on your gambling wins than you need to.

This books gives a multitude of details that will make taxes a little less taxing for both the casual recreational gambler as well as the gambling professional. Sample filled-out tax forms and IRS regulations are included in the Appendix.
Here is a brief summary of the table of contents...
FOREWORD
How this book started out as a chapter for "More Frugal Gambling" and expanded into a book of its own - and how Marissa, Jean Scott's tax preparer/financial advisor, and a qualified Enrolled Agent and gambler herself, came on board to add more help on those complex tax issues gamblers face.
Part I - Federal Taxes
CHAPTER 1 - Introduction - Why You Need Good Tax Information
CHAPTER 2 - The Basics
Gambling Wins as Income
The Gambling Session
Player Record-Keeping - the Gaming Diary (samples included)
Casino Record-Keeping - Win/Loss Statements
CHAPTER 3 - Special Circumstances
Casino Comps and Gifts
Casino Tournaments
Casino Drawings
Live Poker Play
CHAPTER 4 - Filing Your Tax Return
The Recreational Gambler
The Professional Gambler
Gambling Groups
CHAPTER 5 - Government Issues
The W2-G
Other Government Records
Withholding Rules
Part II - State Taxes, Including a Chart with Information for all 50 States
SUMMARY

WHO'S WHO IN THE TAX BUSINESS

INTERNET WEB SITES

APPENDIX - Contains government regulations, court cases, and sample filled-out tax returns for various kinds of filers.
| | |
| --- | --- |
| Jean Scott personally autographs all books sold through this web site. When you order, you can enter the name(s) to whom you would like this autograph addressed. | |